15 Clever Ways to Get Organized with a Lazy Susan
Organize with a Lazy Susan. Do you have an awkward corner that you just can't seem to keep organized? Perhaps you have a little too much clutter on a particular surface, but you still need everything within easy reach. Either way, a Lazy Susan can be the answer to your problems. These handy little turntables can help you organize and make sense out of tight spaces while still keeping your items within reach. Here are 15 clever ideas for using Lazy Susans in your home.
Lazy Susan Hacks For Your Everyday Organization
Good order is the foundation for all things – Edmund Burke
1. Lazily DIY Your Own Lazy Susan
Who wouldn't want the laziest DIY project ever, like making their own Lazy Susan with no cutting, gluing, measuring, or even deep thinking whatsoever? If you raised your hand with me, then consider it done.
With just some marbles (not that we've lost any, lol) and 2 round pans, your spice corner will be getting an immediate upgrade, because you can now finally organize with a Lazy Susan. All you need is your spices in one pan, the marbles in the other, and then you stack the spice pan onto the marble pan. Voila!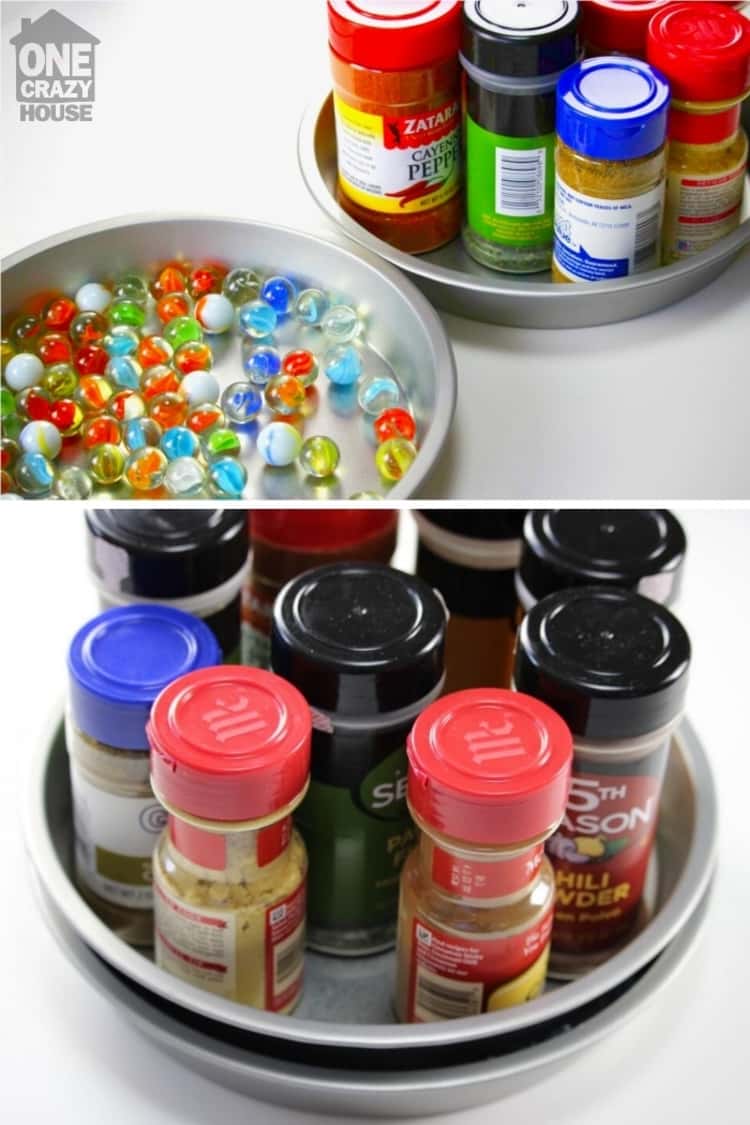 2. Easiest Lazy Susan Hack
Check out this video showing you how to organize with the easiest Lazy Susan hack!
3. Handy Rotating Utensil Storage
Is your kitchen in need of some serious organizational help? And we're referring to you – you who wastes a lot of time looking for a particular cooking spoon in those jam-packed drawers full of utensils. Why not hang a Lazy Susan upside down under your cabinet to create rotating utensil storage.
This handy DIY will help you organize your utensils with a Lazy Susan. The best part of this DIY is how cheap it is, plus it takes up zero counter space, making it easier for you during cleaning. Doesn't that sound like THE ultimate win-win?
4. Clever DIY Lazy Susan For An Organized Homework Station
Use this clever idea to organize by making a Lazy Susan Homework Station and add it to the kids' desk. Ain't it so handy to have all those writing and crafts supplies in one place!
With a rotating turntable, a couple of mason jars, a larger jar for the center, and some washi tape, you can quickly organize your kids' supplies with a Lazy Susan. Say hello!  to your kiddos' independence while doing their homework because all they need to do is rotate the Lazy Susan to get that crayon, pencil, or marker while doing their homework.
Tip: Make it colorful and fun for the kids by decorating the mason jars with different colored washi tape.
5. Best DIY Lazy Susan For BETTER Game Nights
If you thought your family game nights were good, you now have the power to make them EVEN BETTER with a Lazy Susan Game Board.  Organize your family game nights with a Lazy Susan so that everyone is seated comfortably and can easily turn the board when it's their turn to play.
For under $10, all you need to own this DIY Lazy Susan is some pieces of wood, a Lazy Susan bearing, some metal brackets, screws, and paint.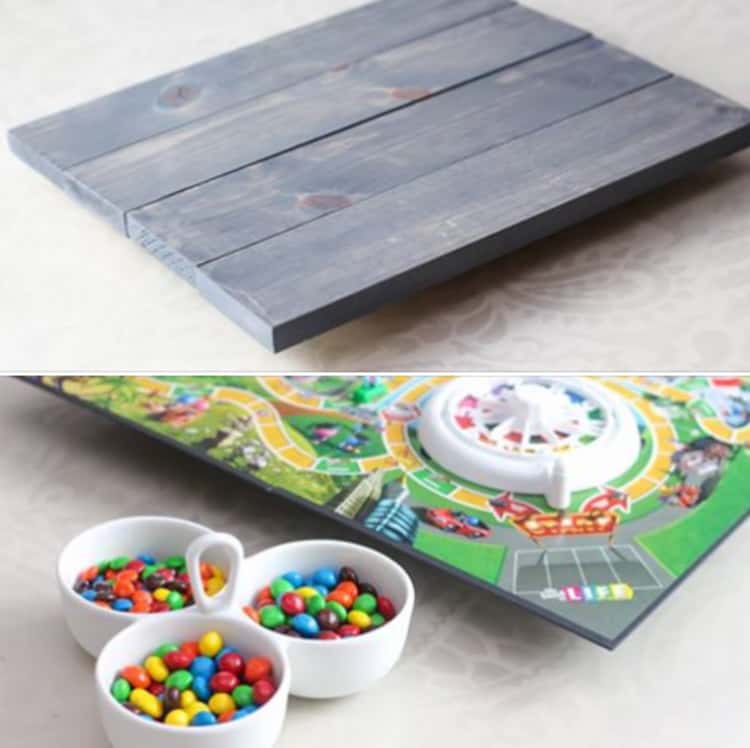 6. Genius DIY Rotating Shoe Organizer
Ladies! You know how we never seem to have enough shoes and so we're always out shopping for more. Now think about how amazing would it be to access ALL your shoes with just a spin?
I guess it would feel like you're out shopping for new shoes and would want to take each pair out for a spin!  Make a Lazy Susan shoe rack for your closet. And while you're at it, be sure to check out some more cool shoe organization ideas!
7. Revamp And Organize Your Crafts Room
For our crafting folks, you know how your crafting spaces never seem to match up to the quality of the beautiful crafts you put out? Well, your crafts room can finally get to the same level as your work by organizing with a Lazy susan.
Have the most reached for craft supplies organized in mason jars and cans which you can then add to the Lazy Susan in your craft room.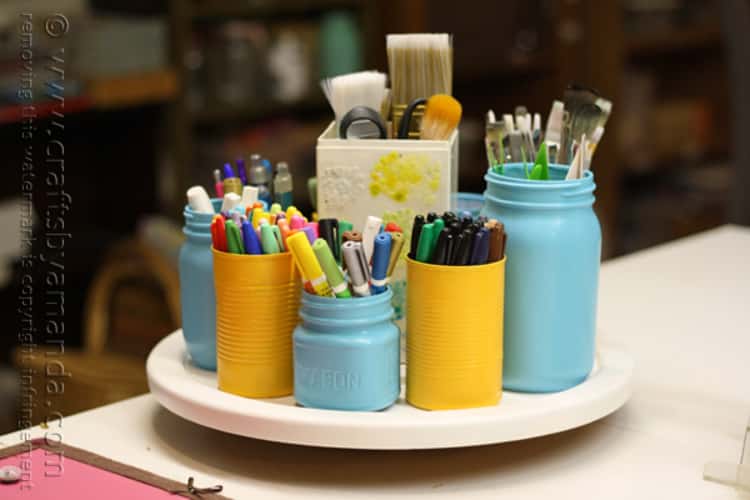 8. Upcycle Old Dusty Shelves Into A Smart Organization Station
Got some old dusty bookshelves hanging around your home? (And if you don't, you can always go thrifting for some on the cheap). Amaze your kids by converting those bookshelves by setting each one of them on a Lazy Susan pedestal to create a smart organization station for them. Add a corkboard to one side, hooks to another, and a mirror on the back. Super smart!
These upcycled old bookshelves are definitely going to be a hit with the kiddos! And everyone else too, especially when used to display your books and flower vases in the living room.
More Brilliant Organizing Hacks With A Lazy Susan
There is nothing more calming than an organised home – Unknown
9. Straighten Up The Most Ignored Space In Your Kitchen
And just so that we're on the same page, we're talking about that space under your kitchen sink. That explosive-bomb-in-waiting that gets attended to ONLY when there's a leaking sink or when you just have to get something from under there.
No more cramming stuff under there when you can clear out everything, take stock of what needs to go or stay, and organize whatever's left on a Lazy Susan. While at it, be mindful of bottles that might find themselves in the way of the plumbing.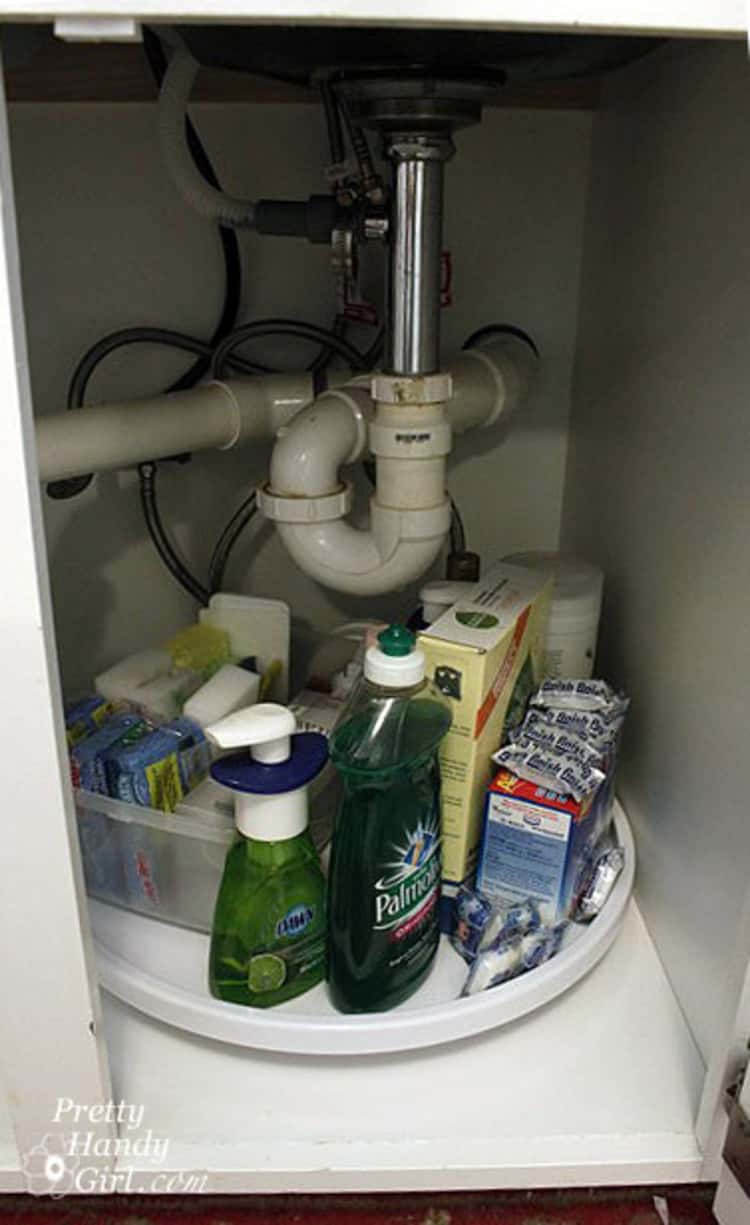 10. Bring Back The Fun In Chores Using A Lazy Susan
If you've got competitive kiddos who are not always up for helping out with the chores, you can make spinning chore charts for them. Hey, anything to make chores a little more fun, right?
Have at least 2 different Lazy Susans to organize for the different chores around your house. One for chores that they can do in 5 minutes or less and a different one for stuff that needs to be done on weekends. We've gotta do what we've gotta do to get our little helpers actually helping.
11. Get A Super Organizer For Your Perfume Display
Are you that person who loves having everything organized and ready to go? Use a Lazy Susan to organize and put your perfume on display on your vanity.
Don't you love how put together this display is?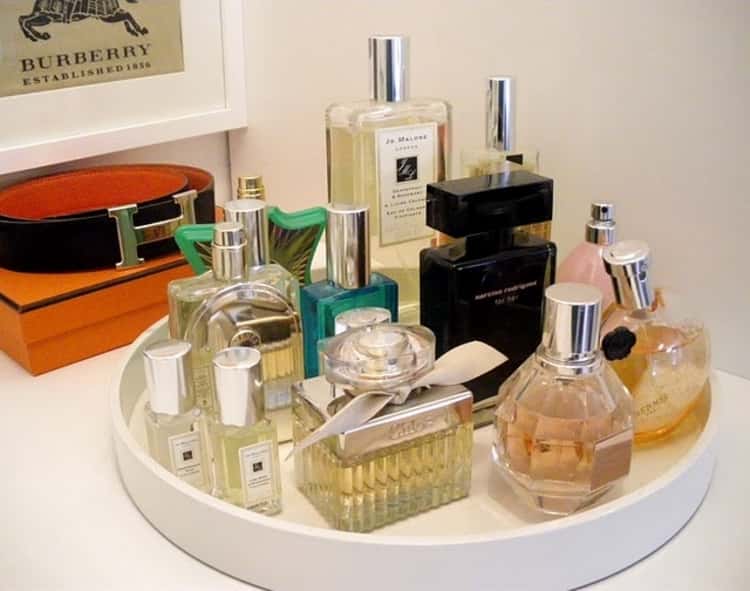 12. Smart Pantry Organization Hack
If your house is anything like mine with those old-school pantries, you sure by now know how those pantry corners go to waste. Earlier on, I couldn't be bothered to put anything in the corners because they were so out of reach!
But since I discovered I can organize using a Lazy Susan, there are no more wasted spaces in my pantry. I simply added a few Lazy Susans to my pantry to maximize ALL corner spaces. What a smart idea!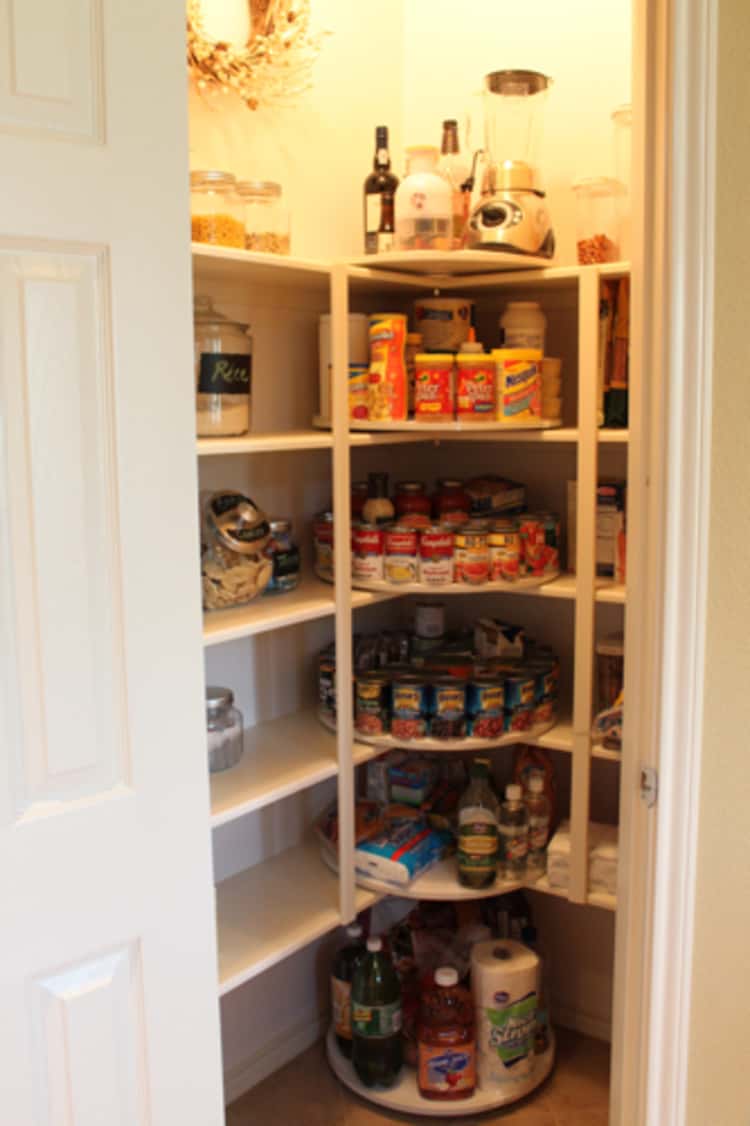 13. Got A Coffee Central Station?
Why not use a Lazy Susan to set one up at your regular coffee station?  Keep the coffee flowing, and this is especially helpful if you're a coffee addict with lots of different coffee flavors. Never miss out on getting your caffeine fix, just when you need it by getting organized with a Lazy Susan!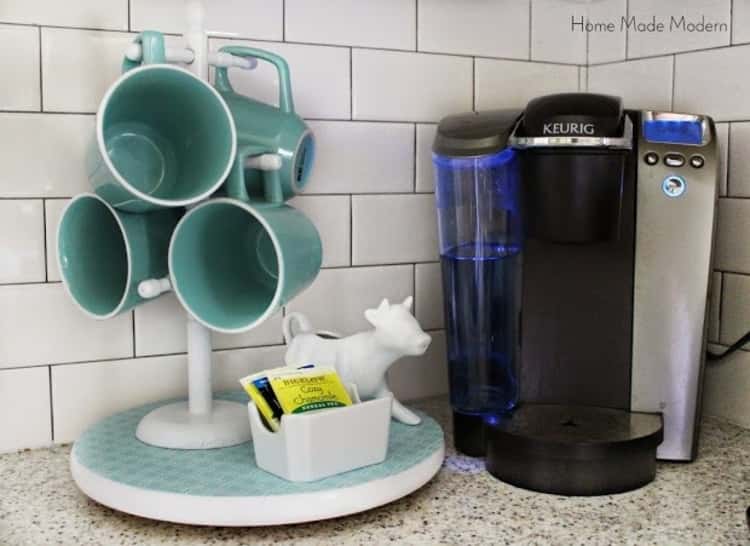 14. Save On Closet Space & Get Organized
Save space in your laundry closet with a Lazy Susan to house your detergents, pods, stain removers, and everything else that goes in there. Not only does this organize and save space for you, everything is within easy reach. And at a glance, you can see what laundry supplies you might need to stock up on.
15. Fridge Organizer For Easy Access To Condiments and Relishes
Condiment and relish lovers, this is just the hack for you! No more squeezing relishes and condiments on your refrigerator door. And how awesome will it be when you can find the condiments you're looking for in just a few spins?
Put a couple of Lazy Susans in the refrigerator for your condiments. This frees up door space for other items. And say goodbye to discovering your fav condiment is well past its Use By Date because for this VERY apparent reason – it never got to be seen or found when it was supposed to!
16. Rotating Makeup And Accessories Organizer
I've never figured out why but even the tiniest number of makeup and accessories can make your spaces look cluttered if not well organized.
Say goodbye to cluttered makeup and accessories corners by organizing with a rotating organizer. Although these are DIY spinning displays, you can buy similar Lazy Susans to achieve the same effect with your nail polish and jewelry. Here's a pretty and simple stainless steel version.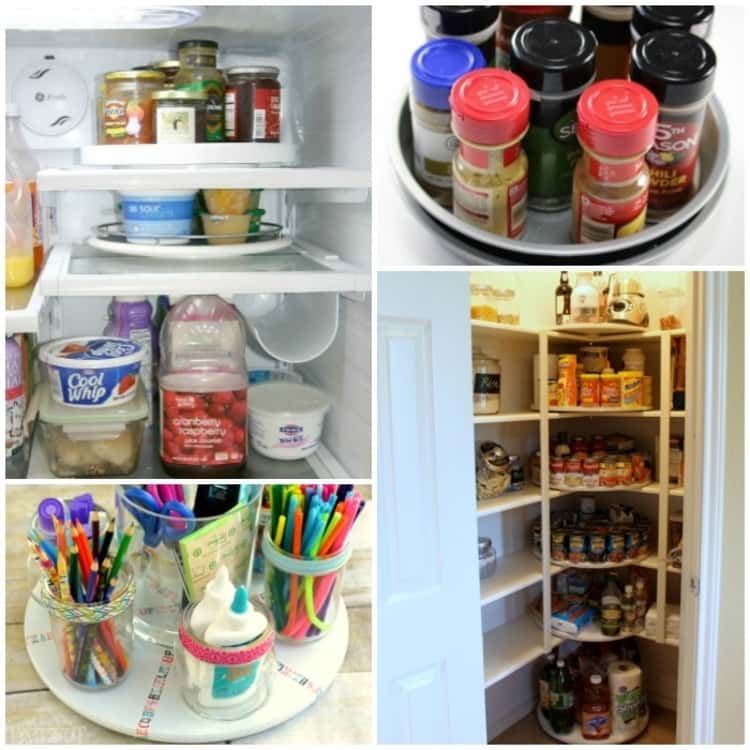 Amazed at the number of ways you can organize with a Lazy Susan? You gotta check out more organization tips and hacks here:
The post 15 Clever Ways to Get Organized with a Lazy Susan appeared first on DIY House Hacks - One Crazy House.