For "LARGE Chris.tian DI.OR Embroidered Canvas Book Tote" Bag Organizer In 7 inch / 18 cm height, Express shipping -Delivery Time 3-5 Days by SenamonBagOrganizer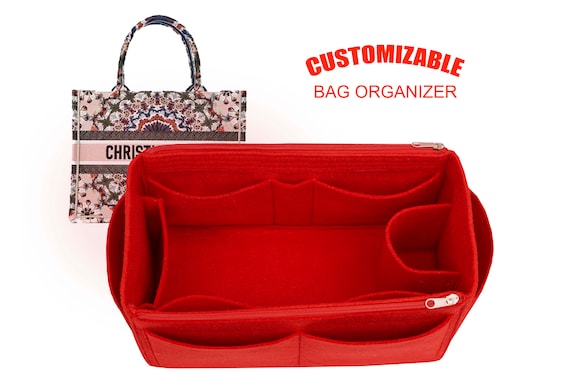 52.00 USD
For"LARGE Chris.tian DI.OR Embroidered Canvas Book Tote" SENAMON bag organizer and bag shaper, bag insert organizer:
Are you busy and change all the thinks you have in your bag is leeway for you? So is the SENAMON bag organizer a perfect time saver for you. It's time to be always tidily!
Or do you need a solution which should protect your bag from stains and give your bag a better shape, than are this organizers a perfect way out for you...
ATTENTION!
The term 'Dior' is a trademark of DIOR. The purse
insert fits in DIOR bags, but is not endorsed or certified by DIOR
brand.
POCKETS & COMPARTMENTS: This organizer has minimum 5 inside pockets and 2 pen holder, 1 round holder /compartments /bottle holder. On the outside has this organizer 2 long zipper pouch and 4 pockets.
The measurement of the pockets /sleeves depends on the size of the organizers measurement.
HEIGHT OF THE ORGANIZER: 7 inch /18 cm. If you want it until the top just sent at checkout a note ...
MATERIAL: This Senamon bag organizer style made from Wool Polyester blend felt.
ATTENTION: You need not to use any base for your bags as this bag organizer avoid baggy bottoms
The SENAMON bag organizers DOES NOT STAIN bags lining!
Care instruction :Hand wash or gentle machine wash without wring.
Please note: Actual color may vary from picture due to computer settings.
The bag on the picture will NOT ship with the bag insert organizer!

CUSTOM ORDER
Do you have a need for a customized solution based on one of our product. I can customize the bag insert organizers according to your needs.
No worry if your tote bag is not in the drop down list. Please buy the "CUSTOM SIZE " listing, and message me at checkout your bag model and the bottom dimension by your own measurement as LENGTH x HEIGHT X DEPTH in inch or cm. Bag dimensions provided on the website where you purchased your bag are not usually helpful some ,because them you should measure your bag bottom and bag height from the inside as Length x Height x Depth.