This walker bag stores everything you need for the day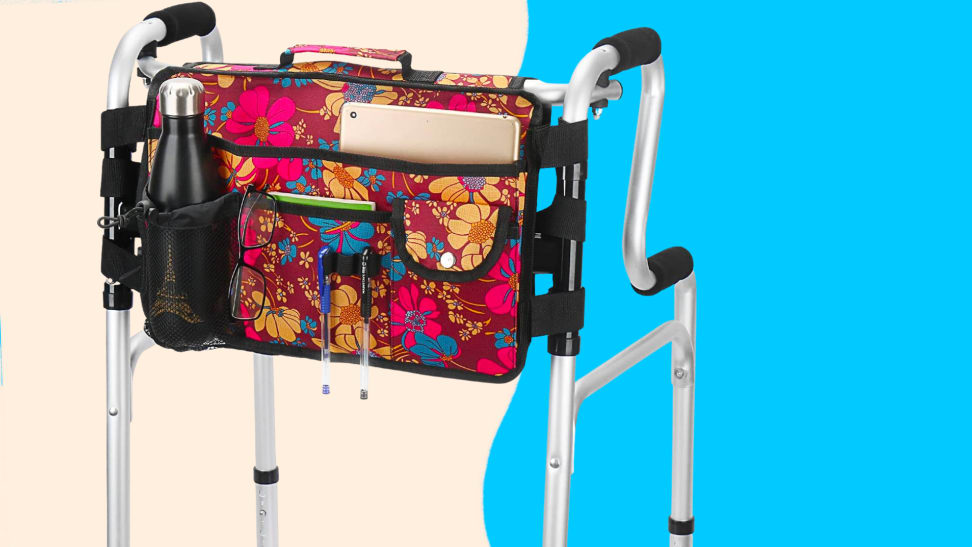 — Recommendations are independently chosen by Reviewed's editors. Purchases you make through our links may earn us a commission.
Like most women, my mother has carried a purse most of her life. Having easy access to pens, tissue, checkbooks, and—when we were little—snacks and wipes, made life a lot easier. Now that she's in her 70s, the items she carries around have changed but her need to quickly access them hasn't. A decade into Parkinson's disease, my mother uses a walker and moves slowly and is often unsteady on her feet.
Having a purse hanging on one of her shoulders threw off her balance, especially when it swung forward onto her chest. She also tried hanging the purse around one side of the walker, but it never fit quite right, and it weighted the walker unevenly and made it more difficult to push.
Last year, while attending a Parkinson's movement class at her local senior center, a kind woman saw us struggling with the walker-purse arrangement and came up to offer my mother a handmade cloth walker bag to hang over the top rung of her walker. How kind! My mother immediately transferred all her items to the bag and found it to be much more convenient than her purse.
It quickly became apparent, however, that the small, simple, somewhat flimsy bag didn't hold much, didn't have separate organizational pockets, and it kept sliding down to one side. After researching better options, I found the Lenpestia walker bag, and while there are a few things I'd change about it, it's pretty close to perfect.
About the Lenpestia walker bag
The Lenpestia double-sided walker bag is a large-capacity walker bag that slides over the top rung of the walker and has pockets on both sides. The bag is waterproof, has nine pockets of various sizes, including one that snaps shut, and several see-through mesh pockets, including one designed for a water bottle. It also has a key ring buckle and pen organizer section where you can clip in three pens. The bag hangs over the top of the front walker bar and is held in place by six adjustable straps, three on each side.
Most walkers are about 24 inches wide, but the adjustable straps will accommodate walkers that stray a bit from the standard. The bag itself is a little over 16 inches wide, and the straps are 7.2 inches long.
We both think this double-sided walker bag is a good option but realize that these bags are not customized for the user, so there is no one perfect bag for every single person. Consider what you typically carry with you, what sort of pockets are needed to accommodate those items, and how much space you'll need.
There are also smaller bags that hang on the side of a walker (like this Uncle Yang side walker bag) and can be used by themselves or in conjunction with a front bag. Knowing how you'll use the walker bag and what you need it to do will help you find the best option.
What I like
It's large and in charge
At 16.3 inches by 22.8 inches unfolded, this walker bag is larger than many others on the market that only have one panel instead of folding over. My mom is able to fit just about everything she needs for the day, whether she's just hanging around the house, going to a doctor's appointment, or spending the day at the senior center.
The potential downside here is that having the option to hold more items means you also run the risk of overstuffing it and needlessly weighing yourself down, which makes the walker harder to move. It's kind of like bringing an extra-large suitcase on a trip when you only need a small one; you'll likely pack items you don't need just because you have the space.
It's well organized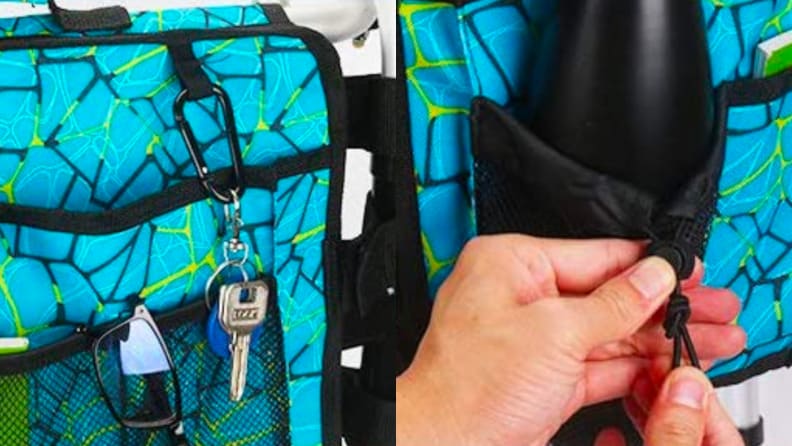 The nine pockets not only make it easy to store a lot of items, but also to organize and find them. My mother has set up a routine with the bag so she can find things more easily instead of digging around one large compartment. Her phone goes in the drawstring mesh pouch, her magazine or book goes in the larger back pocket, her medication is in the front pocket, and her identification cards are in the snapped pocket.
It has a grab-and-go top handle
This walker bag attaches securely to the walker by hanging over the top rung and attaching to the walker's side legs with straps. The top of the bag (the part that hangs over the rung) has a convenient handle so when you need to detach the bag, you can easily lift it up and carry it without anything falling out of the pockets. We've found this handy when we need to collapse the walker to fit into smaller cars.
What I don't like
The Velcro straps aren't long enough
Thanks to the draped-over style, this bag fits very securely on the top rung, but we've found that the side straps sometimes come loose. The Velcro straps just aren't long enough, so they sometimes slip open. This doesn't happen all the time, but it happens frequently enough to be annoying.
Given that my mother is 5'6" and uses a standard-sized walker, it's not as though her walker is just too big for this bag; the straps are just too small.
The water bottle pouch is too small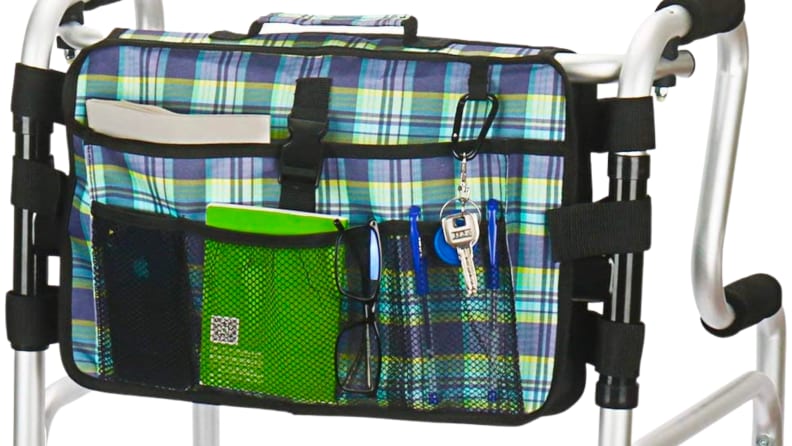 My mother doesn't leave home without a water bottle. She doesn't even leave a room without a water bottle. Wherever she goes, her bottle goes, so we initially purchased this bag specifically because the pictures showed a large, reusable canteen-style bottle in the mesh pouch (many bags don't have this feature). If you use a disposable plastic water bottle, you should be fine, but none of our standard-size reusable water bottles fit well.
There is no zippered pocket
My mom likes that one of the pockets can be closed with a snap, but that pocket is small, there is only one of them, and she has difficulty opening and closing it. A zippered pocket would be easier for her to operate, and it would provide more privacy and security than the bag's many mesh and open-top pouches.
Should you buy it?
Yes. If you use a standard-sized walker, you need this bag.
If you use a walker and need to carry stuff with you, then yes, you should buy a walker bag. My mother really likes this particular bag, and she uses it every day, but she also recognizes that it's not the absolute perfect bag for her. She's tried multiple bags, and also likes the Uncle Yang walker bag because it has a zippered top section and a larger water bottle compartment, but it is also smaller, tends to droop down, has hard-to-reach back pockets, and doesn't have a carrying handle.
If this bag fits your walker (and it will fit most), you'll be happy with this purchase.
Buy the Lenpestia walker bag on Amazon for $21.99
The product experts at Reviewed have all your shopping needs covered. Follow Reviewed on Facebook, Twitter, Instagram, TikTok, or Flipboard for the latest deals, product reviews, and more.
Prices were accurate at the time this article was published but may change over time.