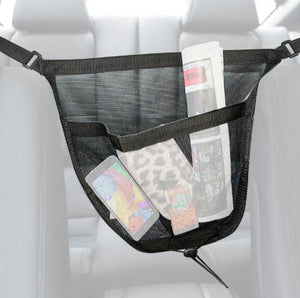 Universal Car Purse Caddy Organizer by OxGord®. Dimensions: 9.9" x 6.6" x 1.6". A trusted name in automotive supplies & accessories presents our exclusive Car Caddy travel organizer. This car caddy purse & travel organizer easily secures to your car's headrests, creating a convenient storage pouch that is easily accessible to drivers as well as passengers. Perfect for families in need of extra car storage, or business travelers on the go.
Condition:
New
Warranty:
30 Day Warranty
Features:
DIMENSIONS: 16.9" x 13.8" x 2.8" inches.
DURABLE: The high quality mesh fabric will withstand natural wear and tear along with the unexpected, plus it's incredibly easy to clean.
PERFECT PURSE PLACEMENT: No need to worry about the contents of your purse spilling all over the floor. Now you can easily store your purse in a manner that allows it to remain clean, stand upright and be within your reach at all times.
SPACE SAVER: Whether its your purse or the loose nick knacks floating around your vehicle. The car storage pouch purse caddy will free up the floor, seats, and storage compartments, making it a great in car storage system.
UNIVERSAL FIT: The trusty storage pouch will work in just about any vehicle. Simply fasten to the headrest, and you'll have a nice little travel caddy with you at all times.
Packaging:
Retail
What you get:
One [1] Caddy Car Purse Organizer