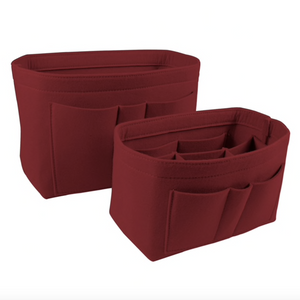 Small: 22cm L x 11cm W x 13cm H.
Medium: 
26cm L x 14cm W x 15cm H.
Large: 30
cm L x 16cm W x 16cm H.


The Fit-It! Purse Organizer is a life-saver when it comes to organizing your beautiful purse! Featuring 10+ slots for storing your everyday or on-the-go products while protecting the interiors of your purse!

Say goodbye to stains and scuffs on your purse with this easy fit organizer. Handmade from soft felt, the Fit-It! Purse Organizer will protect your purse along with the valuable items you carry in it!

Features: 
○ Comes with bonus detachable inner divider
○ 
10+ slots for endless organizing
○ Soft felt material for protection
○ Comes in 3 sizes to fit all purses
○ Comes in 4 colours for interior matching
○ 100% Handmade by care and accuracy

Material:
Soft Felt